Gainsborough school go 'site' seeing at Lincolnshire development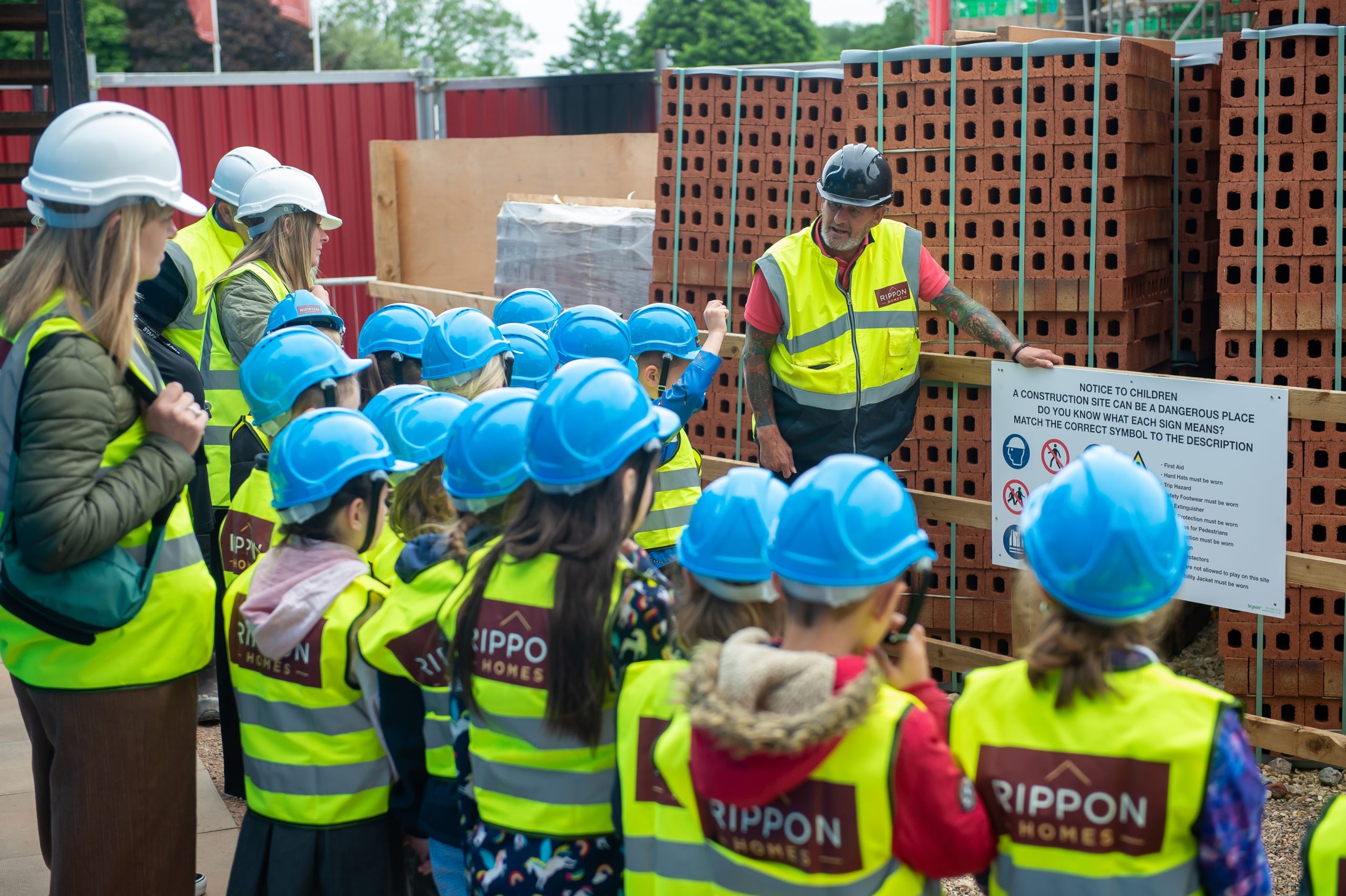 Rippon Homes – SGB-23579 – Site Manager Neil Bisatt talking to the pupils of Frances Olive Anderson C of E Primary School
---
Pupils from Frances Olive Anderson C of E Primary School have been given a practical lesson in site safety following a visit to Rippon Homes' new Rose Gardens development in Lea, Lincolnshire.
The school's Year 2 and 5 classes were invited along to the new homes development Off Willingham Road where they met the site team Neil Bisatt (Site Manager), Alan Isaac (Health and Safety Manager) and Lynne Wheeler (Sales Executive), to learn more about housebuilding and how to stay safe around a building site.
The Year 2 class focussed on what objects are made of, and why certain materials are a good choice. The Year 5 class have been learning about pulleys, gears and levers as part of their science lessons, and further explored this knowledge in the context of a construction site.
With the school being located in Lea close to the ongoing construction, the pupils were also taught about the dangers of playing on construction sites, before seeing some of the team in action.
Rebecca Bishop, Assistant Head at Frances Olive Anderson C of E Primary School, said: "It was really valuable for the children to apply the science theory they have been learning in lessons into a real world context. We were very impressed with the thought and planning by Neil and the team, who showed the children the different materials on the site and why they were the best materials for the job. The children also loved wearing the hard hats!"
Ian Dyke, Managing Director at Rippon Homes, said: "We're always on the lookout for the homebuilders of the future, and we wanted to give local pupils a glimpse of what it's like to work on a new homes development like Rose Gardens.
"These visits are also a good way to teach students all about the dangers of being on building sites, whilst promoting the importance of staying safe at all times.
"We hope that the pupils of Frances Olive Anderson Primary School had a good day with our team and that they all took away some useful information."
For more information about Rippon Homes' Rose Gardens development, please visit https://www.ripponhomes.co.uk/find-a-new-home/rose-gardens/.
« Return to News