Rippon Homes' female staff encourage women to build a career in construction this International Women's Day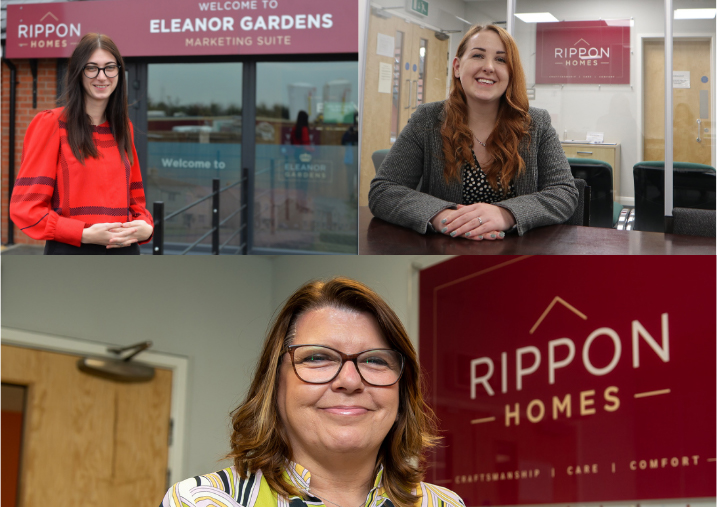 Ahead of International Women's Day on Wednesday 8th March, female employees from Rippon Homes are encouraging more women to consider a career in the construction industry.
The Office for National Statistics (ONS) reported that in Q4 of 2022, 2,171,000 people in the UK worked in construction1. Out of those people, just 321,000, 14.7 per cent, were women2.
With a number of female employees already in a range of roles across the company, here at Rippon Homes, we are keen to break the stereotype around women working in construction.
Tia Bingham, who joined us five years ago as a Sales Executive at our Rose Gardens development, said: "Rippon Homes is the first house developer I have worked for, and I thoroughly enjoy my role as a Sales Executive.
"Being there every step of the house-buying process with our customers and watching them pick their plot, fixtures, and furniture, to then finally handing them over their keys, is one of the best feelings.
"I feel that everyone's opinion is taken into account here at Rippon, and that makes you feel really valued. We have a really good team spirit in our sales team and even beyond into the head office."
Jennifer Mee, who joined towards the start of 2022 as a buyer said: "I first got into manufacturing aged 19 and worked for a local firm as a Supply Chain Assistant. I worked in a team full of males and over the years several women joined, it was great to see the transition.
"I have been working for Rippon Homes for just over 12 months now, and I am so proud of how much I have learned and developed in such a short time. The team is really friendly, helpful, and keen to help you progress.
Julie Johnson, who joined in May 2020, is the developer's Director of Sales and Marketing.
Julie said: "I chose to work for Rippon Homes as it's a regional company with good values. It is committed to growth, and I felt I had the opportunity to add value and make an impact.
"I oversee the sales department and I am responsible for achieving the business' sales targets. I hope to enjoy the rest of my career at Rippon Homes, and being an integral part of its growth."
International Women's Day is a global day celebrating the achievements of women, promoting equality and raising awareness about discrimination.
This year, the theme is #EmbraceEquity, which is all about educating people on the difference between equality and equity, and highlighting why it's so important. To find out more, visit https://www.internationalwomensday.com/Theme.
« Return to News