Story time: A new chapter with Rippon Homes – Gainsborough school children treated to engaging storytelling session by local homebuilder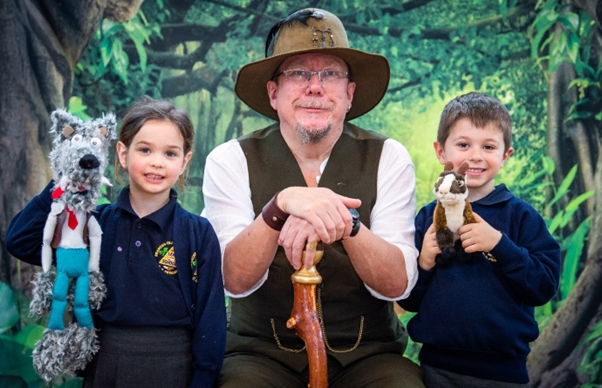 Children at a school near Gainsborough marked World Storytelling Day (March 20) by taking part in an interactive storytelling session, courtesy of Rippon Homes.
We arranged for a professional storyteller to visit Frances Olive Anderson C of E Primary school, as part of our commitment to giving back to the communities we provide homes for.
As part of World Storytelling Day, which is the global celebration of the art of oral storytelling, 100 students aged seven to nine were treated to an enthralling hour's session with many traditional stories told in a captivating manner.
This is the third event that we have put on for the primary school in the last few months, with two site safety visits and bricklaying demonstrations provided last year at our Rose Gardens development for 66 pupils of various ages.
Professional storyteller Mark Fraser conducted the sessions, with pupils engaged throughout, and renowned children's stories such as The BFG and Cinderella part of the delivery.
The experienced orator's routine involved introducing these famous tales in an unrecognisable way, before revealing to the children at the end that it was actually a version of one of their favourite stories.
Throughout his performance, Mark communicated many powerful messages to the children, such as the dangers of bullying and that perseverance can help to overcome adversity, with participation from the children being encouraged.
At the end of the display, the pupils were told about confidence to share stories, with a Q&A session to help them further understand the importance of doing so.
Ian Dyke, Managing Director at Rippon Homes said, "It's great that we are able to provide a tangible benefit to the community by contributing to Frances Olive Anderson C of E Primary School in this way.
"We hope the children enjoyed their storytelling sessions and that it helped to inspire them into a love for telling and listening to stories.
"Providing the school with these sessions was part of our commitment to enhancing the communities around our developments and we're proud that we can do so in this way."
Sarah Woolley, Headteacher at Frances Olive Anderson C of E Primary School, said, "It was fantastic to see just how engrossed the children were by Mark's fascinating stories – the session put plenty of smiles on faces.
"The storytelling was thoroughly engaging as proven by our pupils asking many curious questions and being inspired to tell their own stories.
"We'd like to thank Rippon Homes for generously arranging for Mark to visit our school, and providing a great afternoon for all involved."
« Return to News