What is Sales Assist?
The Rippon Homes Sales Assist scheme is a fantastic way to help you sell your existing home, pre-reserve your chosen new home and save you the time, money and hassle of instructing an estate agent.
WHY CHOOSE SALES ASSIST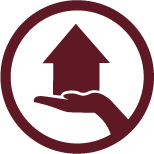 The great thing about SALES ASSIST is you get to choose your new Rippon home before you have sold your existing home. We then hold your chosen new home for up to 6 weeks whilst we get local trusted agents to find a buyer and we even pay your estate agent fees*.
During the marketing of your existing home we will monitor the estate agents progress and ensure that your existing property is advertised on a regular basis, all viewings are followed up and feedback given saving you time and money. We only use trusted local estate agents so you know that you will be on the market with the best in your local area.
Here's how it works
---
  We instruct three local estate agents to value your existing home
  You will be given a realistic marketing price
  Secure your new Rippon home with a reservation fee of £500*
  Leave the rest to us
If no sale has been secured within six weeks, the position will be reviewed and we may decide to:
  Continue to market your property with the estate agents fees being paid by Rippon Homes reviewing the position fortnightly
  We can look to move your reservation to a later property to give you additional time to secure a buyer. You may wish to cancel your   reservation, in which case as a buyer has not been found then your reservation fee is fully refundable at this stage.
---
The Rippon Homes Sales Assist scheme is an ideal opportunity for you to pre reserve your chosen new home whilst we do all the hard work to achieve a sale on your existing home. There really is nothing to lose.. and everything to gain by making moving into your new Rippon Home as easy as possible.
*Only available on selected properties, Estate Agents fees are capped at £4000. If we find a buyer and you choose not to buy a Rippon Home then you will be responsible for all agent fees. Not to be used in conjunction with any other offer. initial reservation fee of £500 is fully refundable and further £500 is payable to complete a full reservation at this point if you cancel the reservation will be subject T & c's and  a cancellation fee as detailed on the reservation form.